Equipment
Maine Boundary Consultants has the latest equipment to provide extreme efficient and accurate field work. For many years Land Surveying Equipment has been evolving in new technology, such as GPS (Global Positioning System) and Robotic instrument. This new technology allow for quick and accurate measurements saving time and money for there clients. Our equipment allows us to perform field work with only one person. Below is a brief explanation of the key field equipment we have purchased in the last few years to provide our clients modern services.
Leica TPS1200 Robotic Total Station: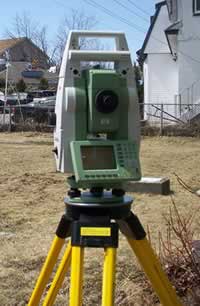 This is our traditional survey instrument, that you may be accustom to seeing surveyors peer through as you slowly pass by them on the side of the road. However, technology has advanced rapidly in recent years and Maine Boundary Consultants has invested heavily in this latest technology. The Leica TPS1200 Robotic Total Station takes highly accurate angle and distance measurements and features a fully motorized prism tracking system, that is controlled wirelessly from a data collector, essentially eliminating the need of having someone behind the instrument directing it. Our investment in this new technology now makes it possible and very efficient for only one person to be out in the field, reducing the cost for our clients.
Altus APS-3 RTK GPS receiver: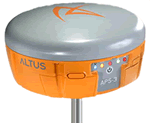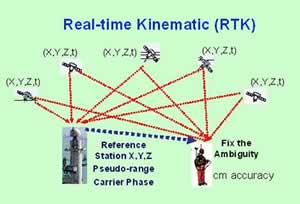 The Altus APS-3 RTK GPS (Global Positioning System) receiver is another major investment that Maine Boundary Consultants has recently made in order to stay ahead of the curve in this increasingly technological world. This GPS receiver has the capability to provide us with real-time centimeter accuracy on the face of the earth without having to do meticulous calculations or corrections back in the office. We have found this GPS unit to be highly efficient and cost effective for numerous types of surveying services. This GPS receiver provides coordinates (locations on the face of the earth) in State Plane coordinate systems (or other coordinate systems if necessary). State Plane coordinate systems are becoming increasingly important in the surveying and GIS world because they allow for the easy comparison of vast amounts of data covering large areas within one system.
HP Designjet 510 – Large Format (42" wide) Plotter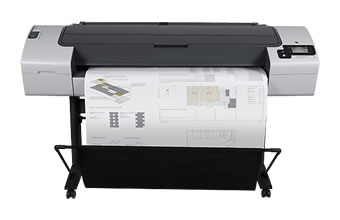 The HP Designjet 510 is the newest addition to our arsenal of high-tech survey equipment in this rapidly evolving technological world. The Designjet is a large format plotter allowing us to print maps up to 42" wide. This is a great benefit to our clients due to the highly detailed Boundary Survey Maps that we produce. The Designjet has a maximum print resolution of 2400 x 1200-optimized dpi, as well as extremely fast and accurate printing capabilities.
Trimble PRO-XR GPS receiver: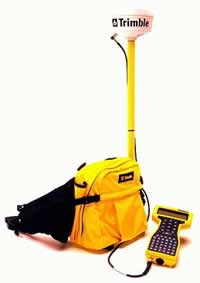 The Trimble PRO-XR GPS receiver provides sub-meter accuracy and is sometimes used in place of the more accurate Altus APS-3 RTK GPS receiver when locating non-boundary features such as tree lines, woods roads or trails, or interior stonewalls, etc. The Trimble PRO-XR unit also fits nicely into a backpack and is somewhat more mobile than the Altus receiver. Having the Trimble PRO-XR unit along with the Altus unit allows our 2 person field crew to work very efficiently, one collecting boundary measurements with the Altus and the other collecting non-boundary measurements with the Trimble.