Staff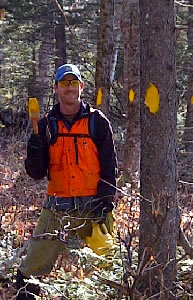 Matthew A. Sukeforth
matt@maineboundary.com
Matt is a Land Survey Technician and Field Crew Chief, and has been working at Maine Boundary Consultants since he graduated from Westbrook High School in 1997. He worked during the summers and school vacations while attending St. Lawrence University in Canton, NY, where he graduated in May 2001 with a bachelor's degree in Anthropology, and minors in Geology and History. Matt has worked full time at Maine Boundary Consultants since May 2001, and specializes in CAD, deed research & boundary analysis and field work. He lives in a multi-unit building he owns in Portland, and enjoys playing Ultimate Frisbee and other outdoor activities in the summer and ten pin bowling in the winter.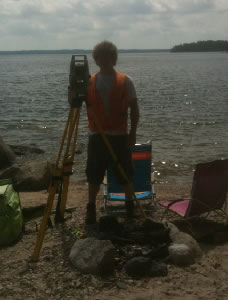 Daniel T. Yarumian, LSIT
dan@maineboundary.com
Daniel is a Land Surveyor In Training and has been working summers at Maine Boundary Consultants since 2002. He started working fulltime after graduating from the University of Maine, Orono in December 2008, with a bachelor's degree in Surveying Engineering Technology, and a minor in Engineering Entrepreneurship. Daniel specializes in CAD, boundary research, GIS, and FEMA elevation work, he also lends a helping hand with field work and general office tasks. Dan lives in Limerick with his girlfriend Caitlyn and basset hound Samson, and is an outdoor enthusiast who enjoys hunting, fishing and snowmobiling.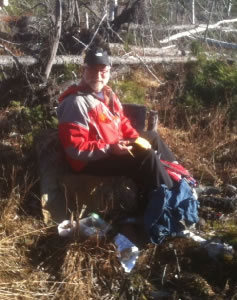 Robert A. Yarumian II, PLS
ray@maineboundary.com
Robert A. Yarumian II, PLS, is a Professional Land Surveyor (PLS 1303) since 1986, and started Maine Boundary Consultants in 1988. Prior to that he worked for other Land Surveying Companies since 1979, both in Maine and Colorado. He is also a Professional Land Surveyor in the State of Utah, (PLS 2201). He is a graduate of Paul Smith College, Paul Smiths, New York, in 1979 with an AAS degree Forest Technician/Surveying, and an AAS degree Forest Technician/Forest Recreation. Check out his
Curriculum Vitea(CV) which contains a detailed history of his Appointments, Awards, Writings, Lectures, and Expert Witness experiences. Robert lives in Buxton, steps away from is office at Moderation Center with his wife Karen, and family of four wonderful children. He is passionate for the outdoors, skiing, and family life.