Morton & Rose Associates, and SMRT Inc. (1970s - 1993)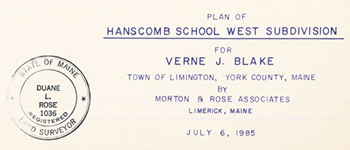 Duane L. Rose, PLS 1036 and Dana Morton, P.E. and formed Morton & Rose Associates in the late 1970s in Limerick. In 1984, SMRT (Stevens, Morton, Rose & Thompson, Inc.) was formed, which involved a partnership with two Architects Paul S. Stevens, AIA, and Arthur P. Thompson, AIA, who had an architectural firm in Portland. Robert A. Yarumian II, PLS joined the firm in 1984, and left in 1988 to start Maine Boundary Consultants, Johann M. Buisman PLS 1314, was the Professional Land Surveyor for SMRT between 1988, 1993, when they sold the survey department to Bruce E. Lewis PLS 2114 and Richard Wasina PLS 2288. In 2006 Maine Boundary Consultants obtained the records of Morton & Rose Associates and the survey records of SMRT Inc.
The areas of concentration were in Limerick, Limington, Parsonsfield, Cornish, Waterboro, Newfield and Portland; however, significant records are found throughout York and Cumberland counties. Records also extend throughout the state. Records on file at Maine Boundary Consultants include Survey Maps and Plans, Worksheets, Reports, Folders, Deed Research, and Field Notes. The records at Maine Boundary Consultants consist of over 1,000 Project Files, and well over 500 Boundary Surveys, between the mid 1970s to 1993.