Maine Boundary Consultants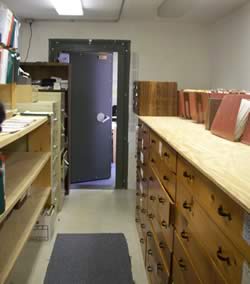 10' x 20' Fire Proof Vault.
Maine Boundary Consultants was founded by Robert A. Yarumian II, PLS 1303, in March 1988. All of the records for each of the projects performed by Maine Boundary Consultants have been retained, filed and indexed. To preserve and insure the quality of our projects all of the information collected during the course of a project has been saved. The information collected during a project consists of deed copies, research notes, deed chains, field notes, calculations, worksheets, digital files, original map prints, correspondence and other records collected during the research phase such as past survey maps, road layouts, utility plans, etc.
One of the unique policies of Maine Boundary Consultants was to obtain any and all pertinent survey maps in and around each of the properties being surveyed. We made extra effort to insure that a complete research investigation concerning not only deed history of the parcel being surveyed but also adjoining parcels and any and all past survey work was sought. As a result, over the years we have collected a huge inventory of survey maps by others. This we find to be very valuable and helpful in performing the current project and any new surveys in the area. On new surveys we research our own records and often find several past projects in the area which is an advantage to have at the beginning of a survey project.
Maine Boundary Consultants records consist of well over 1,000 Project Files, and well over 1,000 Boundary Survey Maps. Perhaps 2,000 or more Legal Descriptions. Probably 3,000 to 5,000 parcels of land. It is estimated that we have surveyed and located at least 30,000 boundary lines and corners. Perhaps we have surveyed over 50,000 acres of land, or more than 75 square miles. Most of our surveys has been in the following towns, Buxton, Hollis, Waterboro, Limington, Limerick, Newfield, Cornish, Gorham, Standish, Hiram, Sebago, Shapleigh, Baldwin, Alfred, Lyman, Kennebunk, Parsonsfield, Dayton, Scarborough, Saco, and Biddeford. All of this information, as well as the Records and Archives of other surveys listed are well preserved at the office of Maine Boundary Consultants.