Middle Branch (1960s - 1996)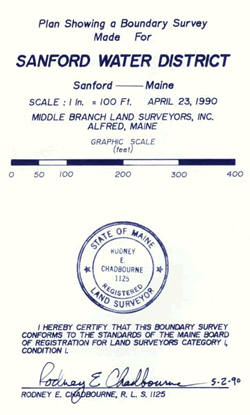 Middle Branch Engineering was founded by Emery S. Littlefield, PLS 339 in the late 1960s in Alfred. Emery was a Professional Engineer and a Professional Land Surveyor who performed land surveying services in the Sanford, Alfred, Lyman, Waterboro, and Shapleigh areas, but also in other York County towns. In 1979, Rodney E. Chadbourne, PLS 1125 acquired Middle Branch Engineering and renamed the business Middle Branch Engineering, Land Surveying, Inc., and later shortening the name to Middle Branch Land Surveyors, Inc. In 1992, Mr. Yarumian acquired Middle Branch Land Surveyors from Rodney. In 1996, Mr. Yarumian sold the Middle Branch business in Alfred to Nadeau & Lodge, Inc., now Middle Branch, LLC Professional Land Surveyors, owned by Brad R. Lodge, PLS 2057.
Under Mr. Chadbourne's ownership, the towns of Alfred, Sanford, Lyman, Lebanon, the Berwick's, Acton, Waterboro, Kennebunk, Kennebunkport, Wells, York and Shapleigh are well represented in his records, though his records extend throughout York County. Middle Branch records on file at Maine Boundary Consultants include Survey Maps and Plans, Worksheets, Reports, Project Folders, which contains Deed Research, Legal Descriptions, Calculations Sheets, and Field Notes. The Middle Branch records here at Maine Boundary Consultants consist of well of 1,000 Project Files, and well over 1,000 Boundary Surveys, between the mid 1960s to 1996.