Deed Research and Sketch Maps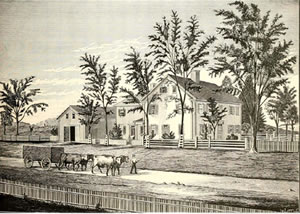 Maine Boundary Consultants' experience in performing Deed Research is an important qualification if you have a question regarding your property as the result of a vague deed description either in your deed, or a neighbor's deed. The majority of deeds we have read (numbering in the tens of thousands) contain at least some ambiguity. Performing Deed Research can be a daunting task and very complicated, even for a seasoned Professional Land Surveyor, let alone for an inexperienced land owner.
The results of a Deed Research project is usually a Deed Sketch Map and or Deed Chains, and is a compilation of the pertinent information found during the Deed Research. Often a Deed Sketch Map is generally overlaid onto a Sketch Plan of the property in question. The results of a Deed Sketch Map is a valuable aide in helping to answer and discern some of the deed ambiguities. A Deed Chain is a history of the owners of the property from the current owner back to a certain period of time. Often back to the 1700's.
A Deed Sketch Map differs from a Boundary Survey in that the Deed Sketch Map may not be comprised of any actual field measurements performed by the Land Surveyor. Occasionally a Deed Sketch Map is performed, and depending on the results, a Boundary Survey may be performed at a later date. Quite often Deed Chains are included in the results of certain types of Boundary Surveys.